Feed Enzyme additive for dairy and grazing cattle

York Ag scientists designed our proprietary products BOVAZYME® and BOVAZYME® ORGANIC. These all-natural feed enzyme additives were conceived to help ruminants digest more efficiently. BOVAZYME contains 7 food-grade enzymes that help break down less accessible nutrients to make them more readily available for further microbial action. Ultimately, BOVAZYME helps enhance microbial growth and microbial protein utilization while supporting nutrient digestion in a natural way.

The unique formulation in BOVAZYME is made of defined enzymes. Defined enzymes are identified and quantified, eliminating batch-to-batch variability. These defined enzymes are separated from the fermentation material after production. Conversely, crude enzymes may not be separated from the fermentation material after production. This means that the fermentation material, yeast, and fungus (e.g. aspergillus) may remain in the final product. Therefore, typical crude enzymes lack accurate identification and quantification, causing potential batch-to-batch inconsistency.

Fiber and cellulose are difficult for beef and dairy cattle to digest. They can have difficulty digesting other nutrients as well. The enzymes in BOVAZYME make protein and fat digestion more efficient, and help facilitate the breakdown of less accessible carbohydrates, resulting in more profitable output with the same input.
Our team is ready to learn about your feed and livestock operation and share the benefits of BOVAZYME, our feed enzyme additive for dairy and grazing cattle.
---
---
WHAT DOES BOVAZYME DO?
Targets Fiber and Cellulose breakdown
Makes Protein and Fat Digestion more efficient
Generates more profitable output with the same input

WHY ARE ENZYMES BENEFICIAL?
Enzymes are proteins that facilitate chemical reactions in biological systems, breaking down key nutrients to aid in digestion.
However, not all enzymes are created equal.
BOVAZYME® is made of 7 different DEFINED enzymes blended into a single package with a Guaranteed Analysis that assures consistency and quality from batch-to-batch:
Alpha Amylase

converts starch to simple sugars

Cellulase

converts cell wall fibers to simple sugars

Hemicellulase

converts cell wall fibers to simple sugars

Protease

converts proteins into amino acids and dipeptides

Lipase

converts fats into free fatty acids and glycerol

Pectinase

converts complex cell walls (pectins) to simple sugars

Beta-Glucanase

converts specific cell walls in wheat and barley to simple sugars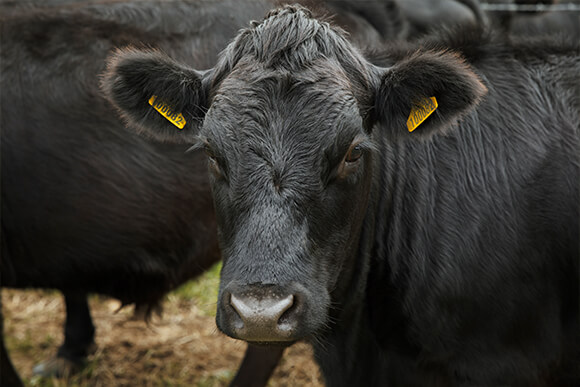 BOVAZYME®
Feed Enzyme Additive for Dairy and Grazing Cattle
---
DEFINED
VS.

CRUDE ENZYMES

DEFINED ENZYMES (BOVAZYME®)
Designed to make less digestible food and fiber more easily available to the animal
Purified enzyme extract allows addition of exact quantity needed to accomplish nutritional goal and reduce waste
Grown under carefully controlled fermentation to ensure no pathogens or "wild molds" are also growing
Each enzyme is identified and quantified
Consistent performance from batch-to-batch
Enzymes in BOVAZYME are from human-grade suppliers



CRUDE ENZYMES
No quantification or guaranteed analysis; thus, uncertainty of actual enzyme content
No consistency from batch-to-batch
Aspergillus organism (mold) may be present
Less stringent quality standards

---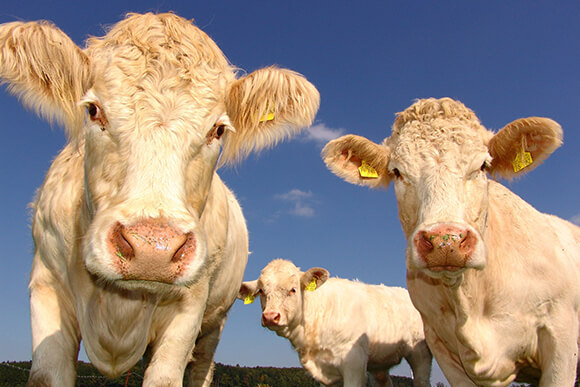 BOVAZYME® ORGANIC
Defined enzymes to aid in digestion
BOVAZYME ORGANIC

BOVAZYME® ORGANIC offers the same high-quality, DEFINED enzymes found in BOVAZYME, yet it utilizes an organic carrier to meet strict requirements in organic animal feed manufacturing or organic animal operation. Contact our team for further detailed information and let us collaborate on your next organic project.
---
BOVAZYME INCLUDED IN DIVERSE ANIMAL FEEDS

Since the launch of BOVAZYME®, multiple feed manufacturers and animal production companies have included our proprietary feed enzyme additive in their formulations to improve digestion in beef cattle and dairy cows. Contact our team and let us help develop your next feed innovation.
Below are some of the products that included our proprietary, all-natural feed additive, BOVAZYME, in their feed products.
Shur-Gro with BOVAZYME® – by Westway Feed Products
Calf-Master™ MV with BOVAZYME® – by Armor Animal Health
Heifer-Max™ with BOVAZYME® – by Armor Animal Health
Lacto-Max™ with BOVAZYME® – by Armor Animal Health
Cattle & Goat Repro Tub with BOVAZYME® – by Armor Animal Health
BOVAZYME®

Protein Tubs – sold by Wann Ranch

Ag West Mineral Tub with BOVAZYME®–

by Ag West Feed & Supply

Quality Liquid Feeds with BOVAZYME® – by Quality Liquid Feeds
Hi Plains Feed with BOVAZYME® – by Hi Plains Feed
Purina/Land O'Lakes with BOVAZYME® – by Purina/Land O'Lakes
A/B Technologies Feeds with BOVAZYME® – by A/B Technologies
Protein Tubs with BOVAZYME® – by Irons Fork Cattle Company
---
BOVAZYME
LITERATURE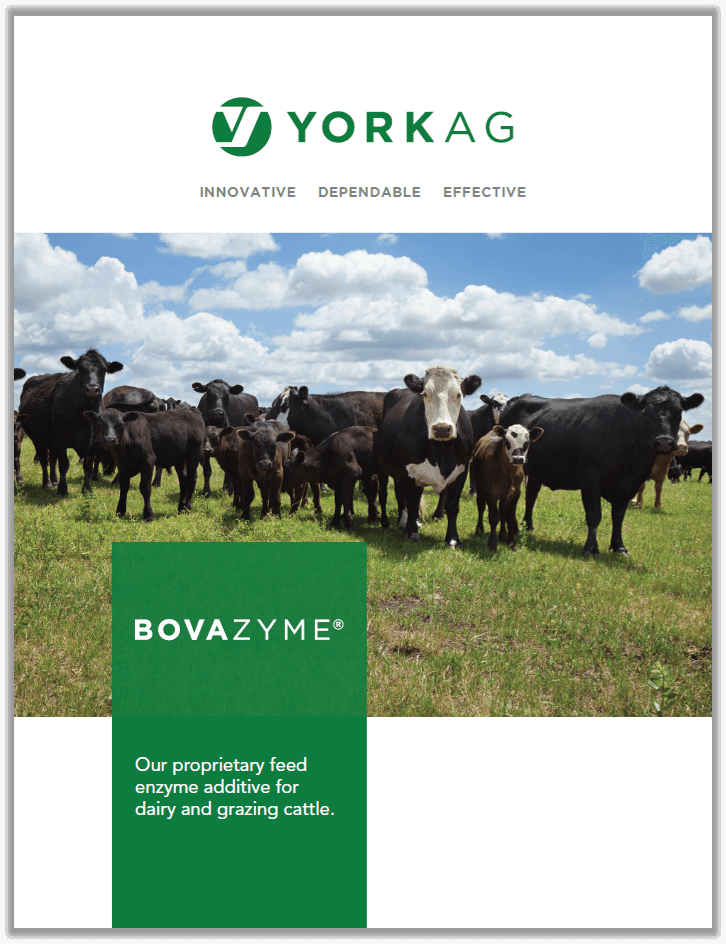 View or download a PDF version of our BOVAZYME® brochure with further details and field trials information about our feed enzyme additive for dairy and grazing cattle.
BOVAZYME TRIAL IN MEXICAN DAIRY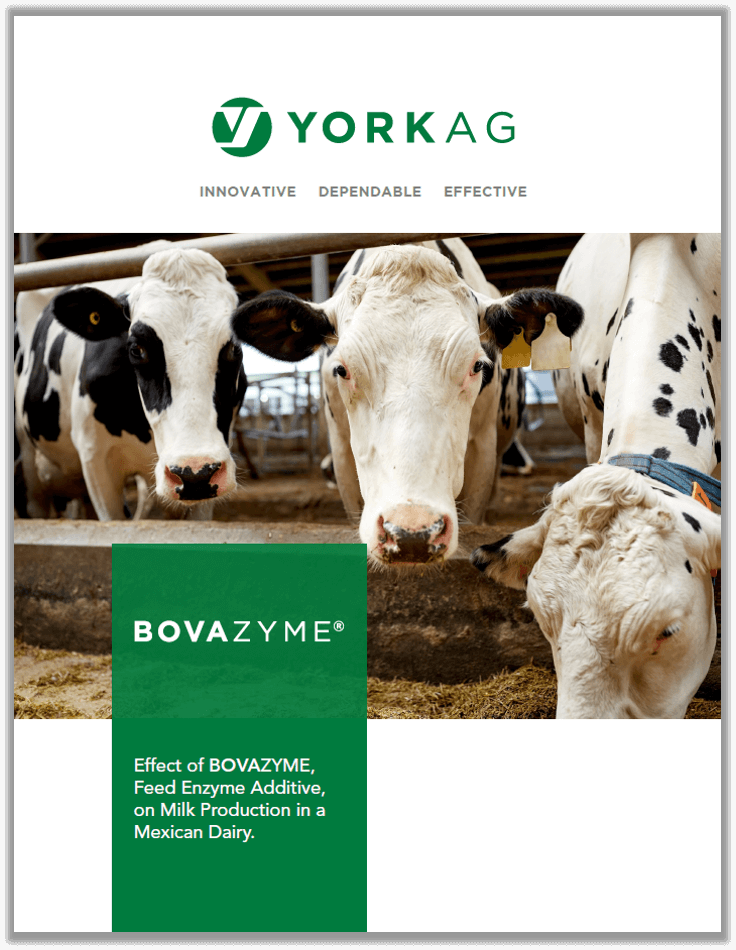 BOVAZYME® was tested on dairy cows at a dairy facility in Mexico. The study showed a positive effect on milk production on those cows feed with BOVAZYME in comparison to the control group.
BOVAZYME TRIAL FOR BLOAT PREVENTION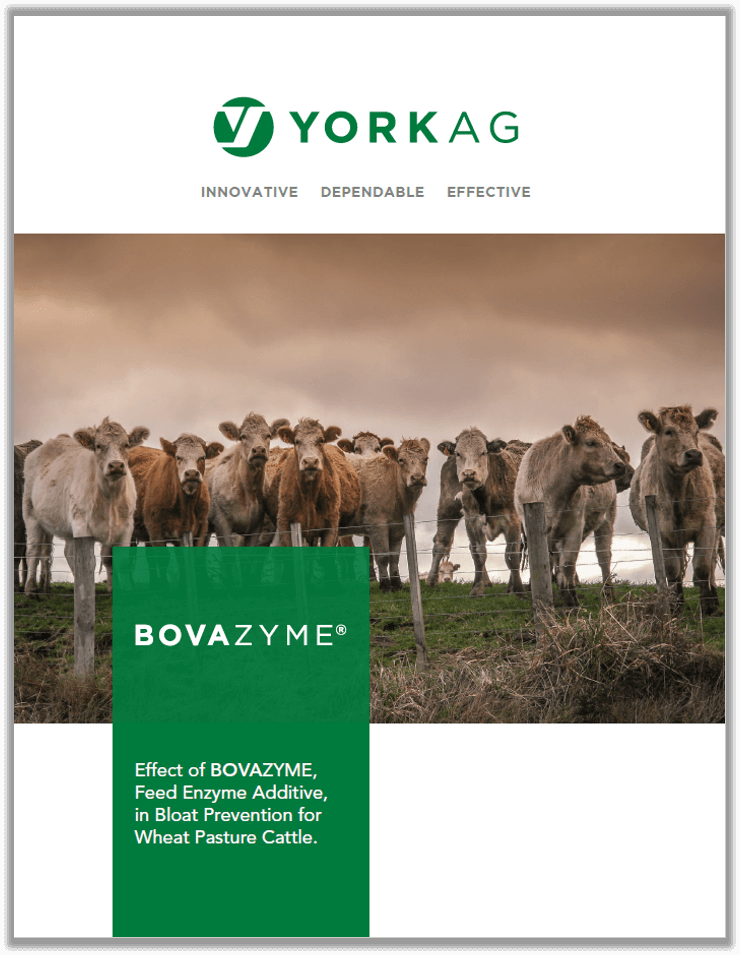 Frothy bloat in cattle grazing hard red winter wheat is the major non-pathogenic cause of death in the southern Great Plains. This study showed BOVAZYME® helped decrease severity and duration of bloat.
---
BOVAZYME BRAND EVOLUTION

York Ag has commercialized BOVAZYME in the animal nutrition industry for more than two decades.
Our brand identity may evolve but our proprietary formulation remains exactly the same as we originally conceived it. Our original BOVAZYME® logo can still be found in feed labels from multiple feed manufacturers, so we share the new brand identity to easily identify our proprietary feed enzyme additive on current and new feed labels.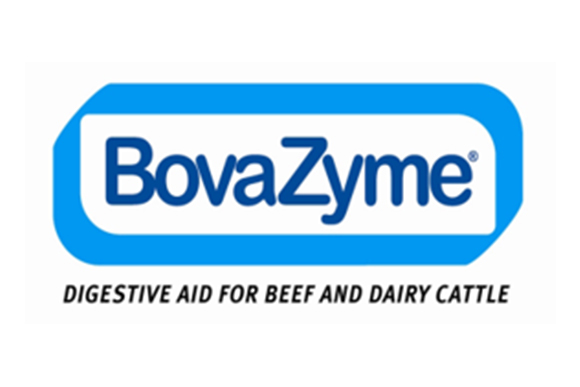 Original BOVAZYME logo in blue and white can still be found in multiple feed labels. If you are a feed manufacturer or livestock operator and need the most updated BOVAZYME logos, please contact our team and we'll be glad to share them with you.


Our new BOVAZYME logo created in 2020 may or may not include a badge with the silhouette of a cattle. Whether it is feed labels, guaranteed analysis or literature, contact our team if you'd like to update our logos on your documentation.

We created a simplified version of our new BOVAZYME logo that does not include a cattle badge. If you'd like to use our new brand identify in any of your feed labels, please send us a note and we'll be glad to assist you.
---
BOVAZYME SPONSORS TYLER WESTFALL

Tyler Westfall, Olympic Hopeful in Canoe Slalom, is being sponsored by our BOVAZYME® brand. Watch Tyler's journey at www.yorkag.com/tyler