Coarse feed calcium to improve eggshell quality

We could say that York Ag founders started with a few broken eggs. Our proprietary product YORK CALCIUM CHIPS® was developed as replacement for oyster shells, as an economical, highly-rich, and readily available calcium source alternative. Since 1988, the egg laying industry has relied on our YORK CALCIUM CHIPS to provide the optimal levels of calcium into their layer diets to guarantee smooth egg production and improve their layers' calcium reserves.
Calcium is a cornerstone in layer diets because it is intrinsically related to the formation of an eggshell. Having optimal feed calcium levels helps hens replenish their bone reserve while maintaining optimal egg production capabilities. Calcium Carbonate increases eggshell durability and mitigates cracked egg numbers in egg laying facilities. The science of animal nutrition has adapted to the needs of the emerging genetics of the industry, and provided precision solutions to meet the needs of changing environments and consumer trends. YORK CALCIUM CHIPS continue to provide superior calcium purity to support hens' laying cycle needs while preserving their overall health and well-being.

NOT ALL LIMESTONE IS CREATED EQUAL
The main source of calcium for layers is limestone, a sedimentary rock formed from calcite. Limestone is predominantly calcium carbonate, but not all limestones are created equal, and quality and purity can vary considerably. There are different forms and degrees of hardness, size, solubility, availability, etc., which determines the solubility and efficacy of calcium carbonate.
In addition to our premium YORK CALCIUM CHIPS, York Ag commercializes a wide range of feed calcium for diverse feeding requirements and our team is ready to help you identify the most suitable calcium source alternative for your specific nutritional needs.
---
YORK CALCIUM CHIPS BENEFITS

For more than 30 years, the egg laying industry has trusted YORK CALCIUM CHIPS®.
OPTIMAL SOLUBILITY
by having the optimal particle size and chemical composition, calcium is slowly released as the shell is being formed
IMPROVED EGGSHELL QUALITY AND HATCHABILITY
by promoting integrity of the egg shell while reducing cracks
IMPROVED FEED EFFICIENCY
by providing coarse particles that assist in grinding feed in the gizzard
OPTIMAL MAGNESIUM CONTENT
by providing less than 2% elemental Magnesium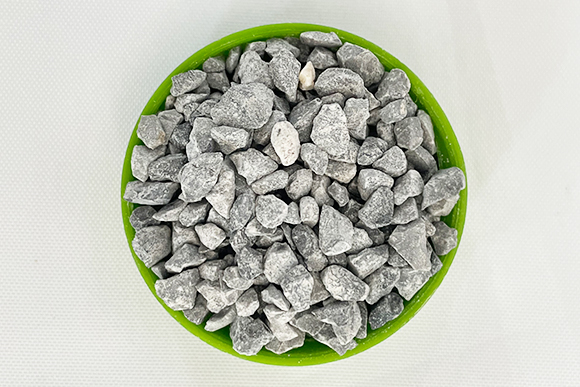 YORK CALCIUM CHIPS®
We help create a better eggshell.
---
YORK CALCIUM CHIPS - VIDEO
---
YORK CALCIUM CHIPS LITERATURE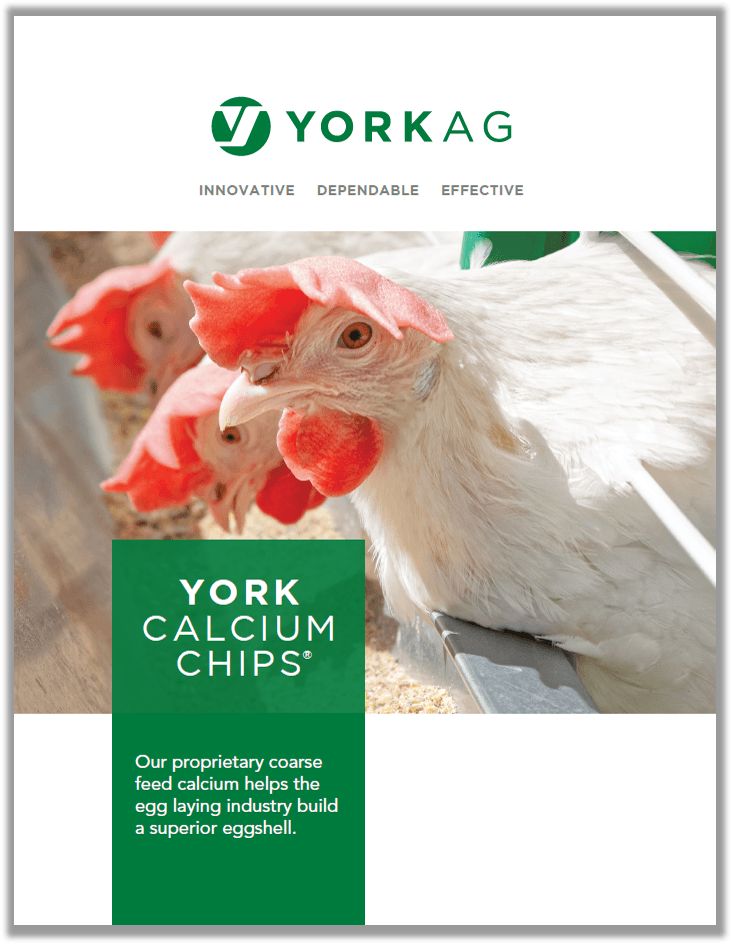 View or download our YORK CALCIUM CHIPS ® brochure and learn more about our premium feed supplement for creating a superior eggshell.
TRAVEL IN TIME WITH YORK CALCIUM CHIPS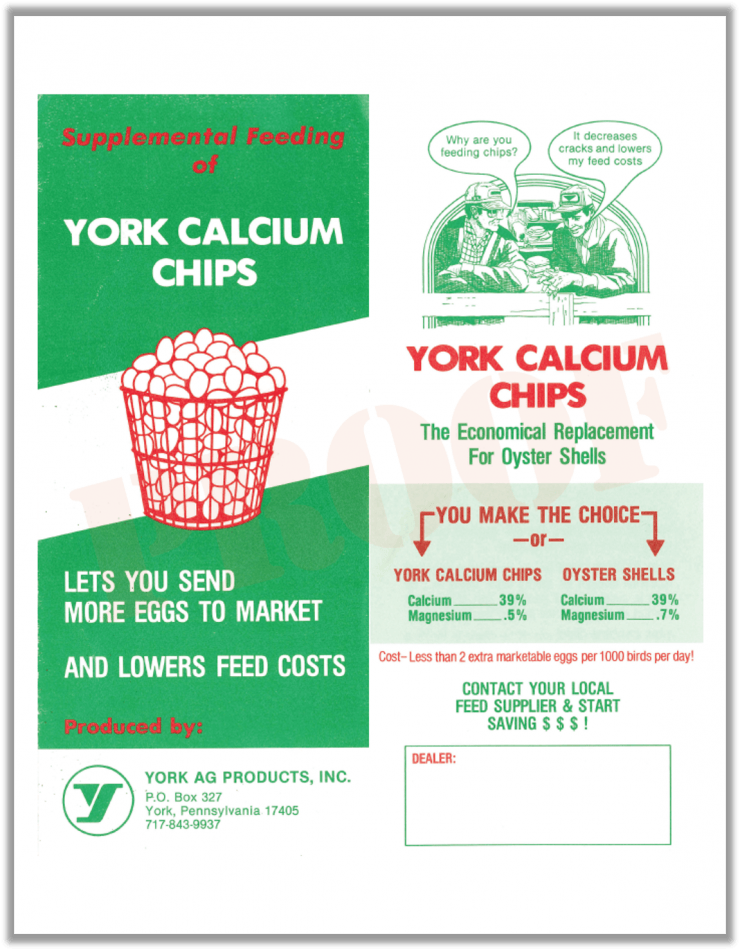 For more than 30 years, the egg laying industry has trusted YORK CALCIUM CHIPS® to help them build a better eggshell. Find out how York Ag started.
york calcium chips new bag design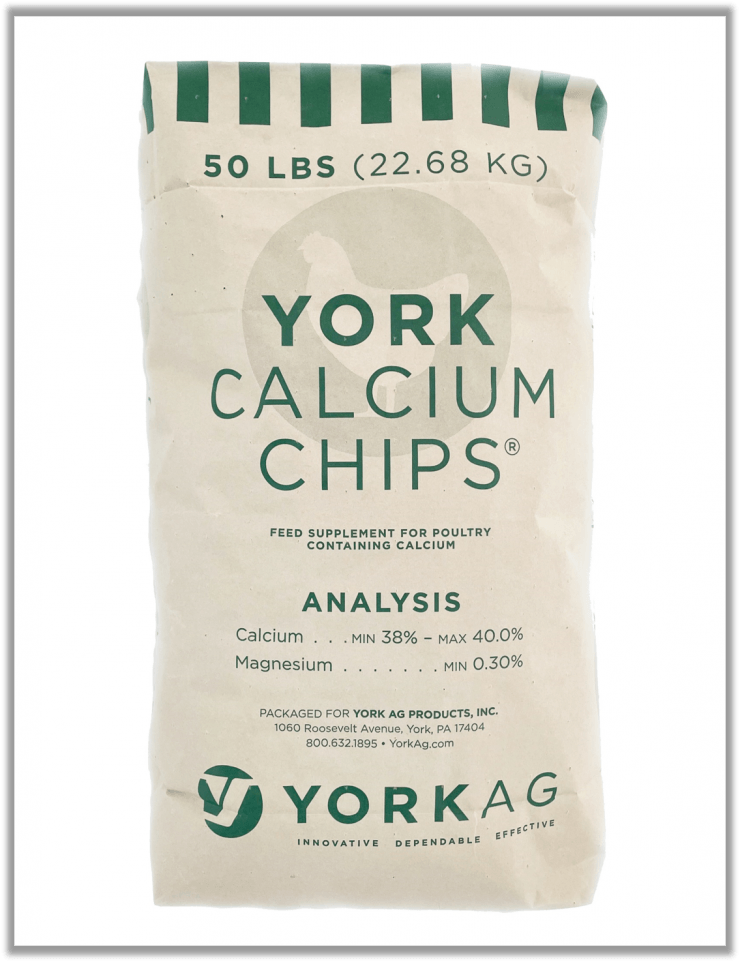 Our design team is celebrating the new look of our proprietary YORK CALCIUM CHIPS® BAG with an updated brand. Look for our new bag at your local rep or distributor.
---
THE EGG PRODUCTION CYCLE
Knowing the egg formation process helps identify the best way to feed calcium to layers in the egg production industry. Calcium requirements will vary depending on the time of day and the time of egg laying. Typically, the egg laying cycle takes between 24 and 26 hours from start to finish. As soon as one egg is laid, another egg begins the cycle.
Every hen is born with yolks inside her ovary.

As those yolks grow, they start the journey through her Oviduct.

They start in the funnel shaped Infundibulum and move to the Magnum. This is where the egg white or Albumin is developed.

The yolk continues its journey through the Isthmus. Here is where the shell membrane is formed.

Next, in the uterus or shell gland, the eggshell is formed and the egg color is defined. The eggshell has a crucial function in this egg laying process. All eggshells begin with a white color, and depending on the breeding of the hen, blue and brown pigments are slowly released and incorporated to the shell forming process.

The majority of the process happens in the shell gland – approximately 19-20 hours.

Finally, the egg is laid through the vent.
THE INCREDIBLE EGG - EGGS 101
Watch this illustrative video made by the The American Egg Board that gives a brief explanation of the laying, cleaning, and packaging steps to eggs prior to reaching homes nationwide.