AN ALTERNATIVE GROWTH PROMOTOR FOR POULTRY PRODUCTION

York Ag is an authorized distributor of ALTERNA® POULTRY in the U.S. Manufactured by Canadian-based PROBIOTECH, ALTERNA POULTRY is a botanical based feed additive that helps support gastrointestinal health and growth rate.
The gut is a very complex environment composed of non-pathogenic and pathogenic microbes. Traditionally, the use of antibiotics has helped in the regulation of gut microbiome. Today, the rise of the demand for poultry raised without antibiotics offer new challenges. Thus, PROBIOTECH developed feed additives such as ALTERNA POULTRY, based on the synergistic effect of specific medium chain fatty acids, organic acids, and botanicals in a single matrix. We also offer ALTERNA® POULTRY OP which is an organic-approved version available for Organic Production.
Contact our team at York Ag and let us collaborate on your poultry operation by recommending the most suitable ingredients for your specific animal nutrition needs.
---
ALTERNA POULTRY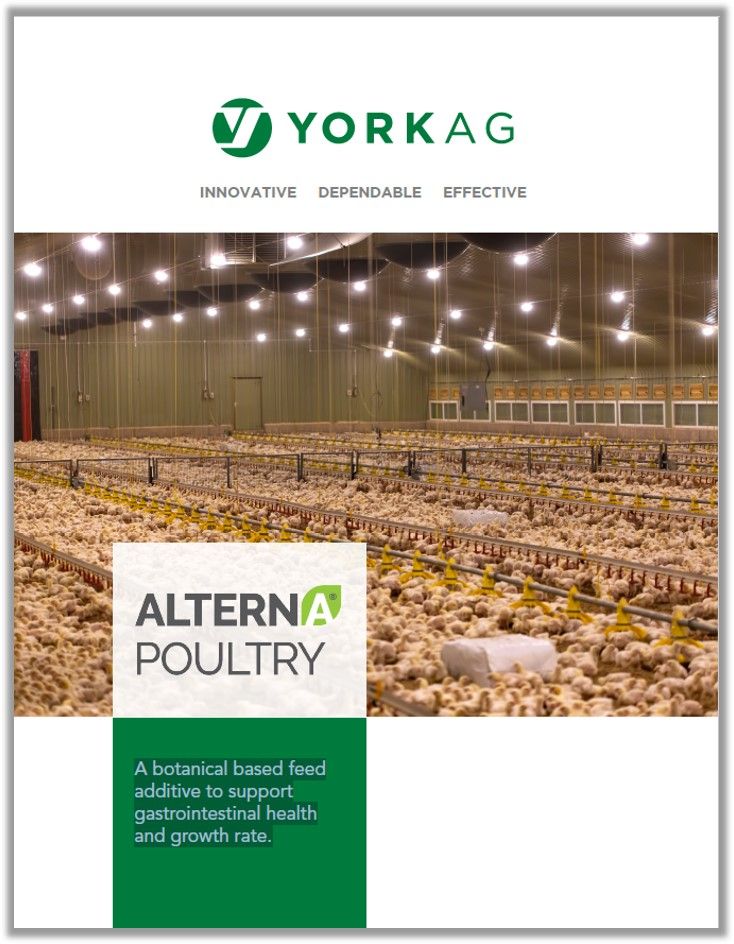 ALTERNA® POULTRY is a natural feed additive designed to regulate the gut bacterial population through a synergistic approach.
---
ABOUT PROBIOTECH
Probiotech International is a Canadian animal nutrition company with more than 25 years of experience manufacturing natural additives and fatty acids for multiple animal species.