A FEED additive designed to help PREVENT BLACKHEAD DISEASE

ALTERNA® HTS is a natural feed additive designed to regulate the gut Histomonas population through a synergistic approach of natural ingredients. Turkeys, chickens, and peafowl are susceptible to Histomoniasis (Blackhead disease). Parasites such as the nematode Heterakis gallinarum can transmit the protozoan Histomonas meleagridis causing Histomoniasis (Blackhead disease) in poultry.
Among poultry species, there are varying degrees of susceptibility to Blackhead disease. Chickens are somewhat resistant to the disease, while turkeys and peafowl are extremely vulnerable and have high mortality rates when infected with Histomonas meleagridis. Traditional wisdom suggests that chickens and turkeys should not be raised together based on experience with Histomoniasis. Chickens can be infected carriers for a long time because they are not typically removed or medicated by their owners. Available in conventional and organic versions, ALTERNA® HTS is based on the synergistic effect of essential oils, spices, and polyphenols, as an alternative solution for poultry challenged with Histomoniasis (Blackhead disease).
Blackhead typically infects poultry using three separate pathways:
Ingestion of soil or earthworms containing eggs of the caecal worm Heterakis gallinarum, infected with H. meleagridis.
Uptake of H. meleagridis directly into the lower digestive tract through the process of "cloacal drinking".
Oral ingestion of live H. meleagridis protozoa when stomach is not acidic enough to kill the pathogen.
---
BLACKHEAD DISEASE - DIAGNOSIS

I. PATHOLOGY OF BLACKHEAD
PARASITISM: Heterakis eggs are specific vectors of Histomonas meleagridis
WEATHER CONDITIONS: Heat or moisture
AGE: All over the production cycle, but Histomoniasis outbreaks occur mainly after 8 weeks of rearing.
STRESS: The stress is a main factor of clinical symptoms. It is not uncommon to observe Histomoniasis outbreak after a partial removal.
BACTERIOLOGY: Bacteriological quality of water or more general hygiene conditions.
MICROBIAL IMBALANCE: Synergic effect between Clostridium, E. Coli and Histomonas.
II. BEHAVIORAL SIGNS OF BLACKHEAD
Suppressed appetite, increase thirst
Decreased/lack of flight distance (distance the turkey may keep between itself and humans)
Decreased/lack of inquisitiveness
Drooping wings
Dry, ruffled feathers
Lethargy
III. PHYSICAL SYMPTOMS OF BLACKHEAD
Mustardy, yellowish colored stool varies from: watery, foamy diarrhea to a dry, solid black stool with waxy yellowish streak
Bulls-eye-shaped necrotic pitting on liver (necropsy)
Ceca filled with yellow, cheesy substance
To know more about ALTERNA® HTS and its usage in starter, grower, and finisher feeds as a preventive tool, contact our team.
---
ALTERNA® HTS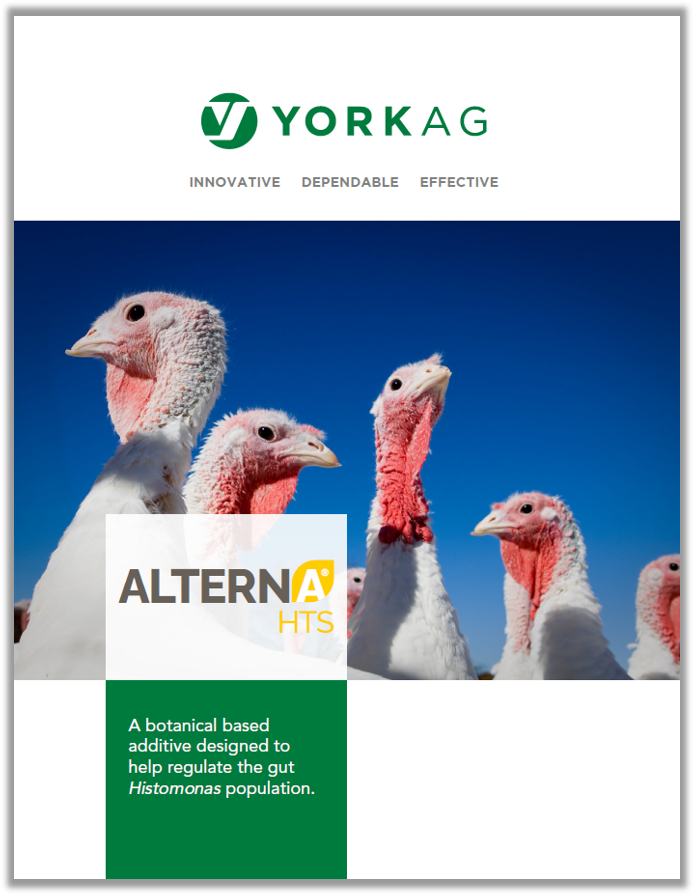 ALTERNA® HTS is used in all poultry species as a natural solution to help regulate the Histomonas population in the gut. Contact our team to download our most recent research.